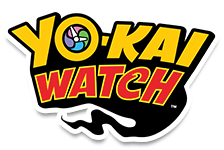 YO-KAI WATCH: THE MOVIE™, the first English-language film based on the global phenomenon YO-KAI WATCH™, recently received a limited theatrical run and features the voice talent of the hit show YO-KAI WATCH, which is also available to stream on Netflix.
YO-KAI WATCH: THE MOVIE follows Nate Adams and his Yo-kai friends, Whisper and Jibanyan, as they're transported to the past to help Nate's grandfather, Nathaniel, battle evil Yo-kai and invent the Yo-kai Watch. YO-KAI WATCH: THE MOVIE also introduces a new Yo-kai — Hovernyan, a floating blue cat who is Nathaniel's heroic companion. Cinema Blend calls the film "a fun and fast watch that makes for some entertaining excitement," and Anime News Network says YO-KAI WATCH: THE MOVIE is "a funny and heartwarming comedy-adventure."
YO-KAI WATCH™ is a cross-media universe, following the hilarious misadventures of an average human boy and his involvement with the mischievous Yo-kai (invisible beings that are the cause of life's daily annoyances) all around him. Our young hero obtains a special watch, empowering him to discover and summon the mysterious Yo-kai, befriend them and then work together to solve everyday problems… problems that are often caused by other trouble-making Yo-kai! Discover the adventures of Nate and his Yo-kai companions via video game, animated comedy series, comics, toys and video on demand. Visit the official website, as well as follow YO-KAI WATCH on Twitter, Facebook and Instagram.